5 Reasons to Choose a Class "C" Components Supplier with ISO 9001 Certification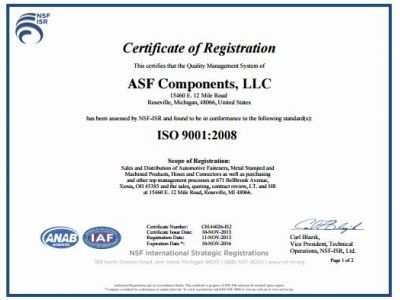 When you're looking for a class "C" components supplier, there are a lot of variables to consider. Stock levels, product options, customer service and shipping times can all affect your decision. While it may not be a priority for your business that your supplier offer cable ties or bushings, there are certain constant requirements, things that influence every company's decision-making process. By and large, all of those factors are represented by a single standard: ISO 9001 certification.
ISO 9001 certification indicates that a company has taken the steps necessary to meet a rigid, standardized level of quality. It ensures that the company you are working with has implemented Quality Management System requirements for their business in areas such as facilities, people, training, services and equipment. In this post, we're going to take a quick look at some of the benefits of selecting an ISO 9001 certified company as your class "C" components supplier.
1. Improved quality and service
By committing to meeting a standardized level of quality, companies that are ISO 9001 certified ensure the output of consistent, high-quality parts.
2. Delivery on time
ISO 9001 certification is only awarded to companies that have proven their dedication to meeting their clients' deadlines.
3. Positive treatment
A class "C" components company that is ISO 9001 certified must show that their goal is to foster positive, long-term customer relationships.
4. More consistent products
ISO 9001 certification requires that companies reduce variation in their operations, meaning that customers know what to expect when it comes to product weight, dimensions, tolerances and so forth.
5. Continued improvement
ISO 9001 suppliers are audited regularly, ensuring that they not only maintain their compliance but that they are regularly taking steps to improve their operations and, by extension, customer experiences.
At ASF Components, we have a wide range of experience in supplying class "C" parts. From simple, one-time stock replenishments to more comprehensive vendor managed inventory programs, we can help you keep your production lines moving. Our dedication to timely, consistent output and our promise to meet – or exceed – your requirements is illustrated by our ISO 9001 certification. If you're looking for a partner that is committed to contributing to your success, give us a call. We look forward to discussing how we can help increase efficiency, reduce frustration and boost the profits of your business.